2017-05-21
Legislative Update

Introduction -

I am told by my fellow legislators that we are entering the final weeks of the current session. It's really different - the routine has changed.

The Education and Cultural Affairs Committee has largely ended its work, and we have gone to three days in House Chamber. Thanks to the patient but determined leadership of Senator Brian Langley and Representative Tori Kornfield, this committee has seen hundred and hundreds of bills this session.

Leadership tries to move as many bills as possible through the chamber - as quickly as possible. We use a web site to follow the proceedings, and that web site is a real saver - as it posts the current bill under discussion while linking to the actual bill, the testimony, and the committee report.

Saturday, May 20, 2017, was a busy day indeed, with some work placing American flags beside the stones of Veterans in Riverside Cemetery, attending community office hours at the public library, and visiting the exciting Innovation Exposition at Museum LA.


House Calendars


Bill Text -> Bill Text

Bill Status -> Bill Status

Testimony Link -> Bill Testimony
This is really a great resource as you can see all the testimony presented on any given bill.

Events Calendars -> Events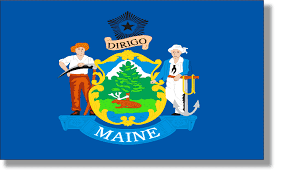 This week in the House -
Mining -
Perhaps one of the most important laws enacted in the House this week had to do with mining laws. Representative Tucker of Brunswick gave a simply brilliant speech on the first bill connected to mining, but it was the second bill that carried the teeth.

See this link for a description of what was passed.
Maine Passes Strict Mining Regulations

Child Poverty -

From the Speaker's Office -
AUGUSTA - Speaker of the House Sara Gideon's LIFT legislation won the majority (6 - 2) support of the Health and Human Services Committee (HHS) on Wednesday. This initiative would use existing federal funds to address Maine's increasing child poverty rate. Rep. Richard Malaby (R-Hancock) voted ought to pass as amended, offering his support to specific initiatives within the legislation.

The percentage of Maine children living in deep poverty—less than $10,000 a year for family of 3—has increased at a rate 8 times greater than the national average. At the same time, the Department of Health and Human Service has stockpiled a reported $150 million in federal funds that could and must be used for families with children living in poverty.


On the local front -

The City of Lewiston is opening a Household Hazardous Waste Facility on May 20 - Consult this link
http://www.lewistonmaine.gov/depot2017

The City of Lewiston has asked us all to display the number of our street address prominently on our houses. This ia a most important action - as first responders can not always identify a house without. (It's also important to the walking representative to know the people he meets.)

Reflections
There are two important considerations worth discussing as we head into the final weeks of the legislative session.

The voters clearly expressed their sentiments with two referendum.

First, doing the right thing for education by funding it at 55% is important. People let us know what they think. I"m not one for budget shenanigans, so efforts to lower the total cost of education by transferring educational expenses directly to the towns seems unfair. I want and will support a "fair 55." That' s 55% that matters.

Second, the voters sent a signal with the minimum wage bill, and again, we seem all to content to play budget shenanigans in funding the tipped wage section of the bill. Yes, the current proposals roll back the tipped wage provisions and provide important safeguards for tipped wage workers. Yet, it seems these provisions are patch jobs on what the voters wanted.

And unlike others, I believe that Maine voters knew exactly what they were voting to put in place. Maine voters are not as limited as some would like to believe.


As always, feel free to write to me and let me know your thoughts.